100 Brand New BMW differentials for various E30, E32, E36 and E38 models now available!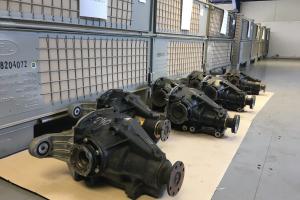 Get them before they're gone!
Birds BMW have invested in over 100 brand new rear axle differentials straight from BMW's warehouse, which are now all available on their newly opened eBay shop. You will find applications to fit E30/E32/E36/E38 models from the E30 3 Series right up to the E38 7 Series, prices ranging from as low as £360 to almost £1000. These differentials, if you were to buy them in this type of condition or from BMW themselves, would cost between £1500 to £2000.
This is the opportunity of a lifetime for all E3* owners who may have damaged their original, would like to upgrade to a limited-slip differential or higher gear ratio, or if they just need a spare as these are not easy to come by in this condition. There is limited availability on some applications, especially for the limited-slip differentials which includes only one to fit E36 325 and 328 models, so get them before they're gone as many are no longer available from BMW either! Below is a link to our eBay shop where you can purchase them from:
https://www.ebay.co.uk/usr/kevinbirdgaragesltd?_trksid=p2047675.l2559
---