ALCON BMW Brake Kits!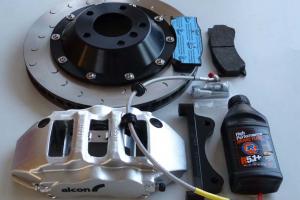 The exceptional ALCON performance brake kits are now available and IN STOCK for many current BMW models (including M-Power cars), exclusively at BIRDS – The U.K's Premier BMW Tuning Company.
If you have a lot of power in your BMW (whether for road or track use) you need strong, reliable, and unfading brake power. For 25 years ALCON has been providing brake solutions to professional teams competing in the world's premier motorsport series including F1, NASCAR, IRL, WRC, S2000, and Australian V8 supercars (as well as to competitors in Clubman and other classes). Although best known in racing, about 50% of current activity is actually with prestige road cars and marque tuners.
BIRDS have recently won the exlcusive rights for ALCON BMW distribution, and have committed to large amounts of stock so that their customers can benefit from an immediate basis. No more 6-12 week lead times – these kits are ready to be installed on your BMW today at BIRDS. (Demo E89 Z4 available!).
FEATURES
Monobloc Caliper for increased stiffness and low weight allowing maximisation of disc diameter and pad area (even with 18" wheels).
Unbelievable stopping power and consistency.
Retention of original BMW pad wear sensors.
Fast road pads for durability and quiet operation.
Alloy disc bells with hard metal bobbin inserts.
Completely fade free, even with extended circuit use.
For prices and further product information click here.
Alternatively you can contact us on 01753 657 444 or enquire through our website.