Birds B4x Sport Suspension for F32 435d xdrive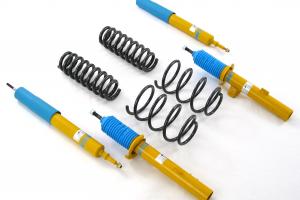 BMW tuning specialists Birds are well-known for their expertise in the art of ride and handling, and are now pleased to announce the release of their customised Bilstein-based B4x Sport Suspension upgrade for the F32 435dx.
Never happy with the "designed for track" aftermarket suspensions available, Birds have been successfully revamping BMW and aftermarket suspensions to achieve real-world performance and comfort on our bumpy U.K roads for many years. Their popular B-Series Suspensions (now available for all F32 4 Series models) consist of very carefully tuned Bilstein shock absorbers and custom Sport Springs, making them the only bespoke suspension kits designed for U.K roads available off the shelf.
BMWCar Magazine tested their B3x Suspension-equipped F30 335dx demonstrator in the October issue, and confirmed it offered "stunning ability in the corners", imploring readers interested in upgrading their 3 Series to test this car. Birds offers demonstrations at their HQ based in Iver, Bucks.
Other upgrades are also available in the shape of a 380hp Engine Management Software, Quaife ATB limited-slip diffs, Anti-Roll Bar Kits, Alcon Brake Kits, all of which can be combined into packages with consequential cost savings. Shipping worldwide available.
Kit Price: £974.24 excl. VAT.
Installed Price: £1683.17 incl. VAT.
Warranty: 24-36 months dependant on age and mileage.
More on F32 B4 Sport Suspension