Mercedes Quaife limited slip differentials - list of models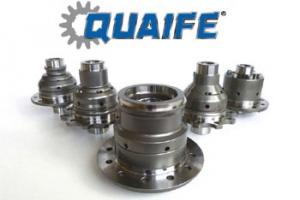 The brilliant Quaife limited slip differential is an absolute must for your Mercedes, and they are now exclusively available worldwide for many Mercedes models, only at Birds.
"If you have a powerful Mercedes, especially an AMG, a Quaife ATB limited slip differential is one of the best performance upgrades money can buy. Without any extra power, your car will be able to accelerate from rest faster and be quicker out of corners. And should you decide to add more horsepower, the diff will allow you to exploit it more fully. More than that, your car will also handle more consistently, and so will be safer, especially in slippery conditions..." - Ian Kuah, Mercedes Enthusiast Magazine.
Below is a list of Mercedes applications we currently hold in stock. To order please make your enquiry to us or call us on +44 1753 657 444.
More information on the Mercedes Quaife LSD can be found here.
Mercedes 107 450 SLC limited slip differential
Mercedes 107 500 SLC limited slip differential
Mercedes 116 450SE, 450 SEL limited slip differential
Mercedes 124 420E with ratio 4.2:1 limited slip differential
Mercedes 124 500E limited slip differential
Mercedes 124 AMG 500E 6.0l limited slip differential
Mercedes 124 E320 without ASR limited slip differential
Mercedes 126 560 SEC with ASR limited slip differential
Mercedes 129 600SL limited slip differential
Mercedes 129 SL500 limited slip differential
Mercedes 170 SLK32 AMG limited slip differential
Mercedes 171 SLK350 limited slip differential
Mercedes 171 SLK55 AMG limited slip differential
Mercedes 202 C43 AMG limited slip differential
Mercedes 203 C220 limited slip differential
Mercedes 203 C220 d Auto 5-Speed limited slip differential
Mercedes 203 C30 cdi AMG limited slip differential
Mercedes 203 C32 AMG limited slip differential
Mercedes 203 C320 limited slip differential
Mercedes 203 C320 CDI limited slip differential
Mercedes 203 C55 AMG limited slip differential
Mercedes 204 C220 d limited slip differential
Mercedes 204 C320 CDI limited slip differential
Mercedes 204 C63 AMG limited slip differential
Mercedes 207 E550 CGI limited slip differential
Mercedes 208 CLK320 limited slip differential
Mercedes 208 CLK430 limited slip differential
Mercedes 208 CLK55 AMG limited slip differential
Mercedes 209 CLK320 limited slip differential
Mercedes 209 CLK320 CDI limited slip differential
Mercedes 209 CLK350 Auto 7-Speed limited slip differential
Mercedes 209 CLK500 limited slip differential
Mercedes 209 CLK55 AMG limited slip differential
Mercedes 209 CL55 limited slip differential
Mercedes 209 CLK63 AMG limited slip differential
Mercedes 210 E320 CDI limited slip differential
Mercedes 210 E430 limited slip differential
Mercedes 210 E500 AMG limited slip differential
Mercedes 210 E55 AMG limited slip differential
Mercedes 211 E280 CDI Auto 7-Speed limited slip differential
Mercedes 211 E500 limited slip differential
Mercedes 211 E55 AMG limited slip differential
Mercedes 211 E63 AMG limited slip differential
Mercedes 212 E63 AMG limited slip differential
Mercedes 215 CL500 with ratio 2.82:1 limited slip differential
Mercedes 215 CL55 AMG Kompressor limited slip differential
Mercedes 215 CL55 AMG with ratio 3.65:1 limited slip differential
Mercedes 215 CL600 limited slip differential
Mercedes 215 CL65 AMG limited slip differential
Mercedes 216 CL500 limited slip differential
Mercedes 216 CL600 limited slip differential
Mercedes 216 CL65 AMG limited slip differential
Mercedes 217 E550 CGI limited slip differential
Mercedes 218 CLS350 CDI Auto 7-Speed limited slip differential
Mercedes 218 CLS63 AMG limited slip differential
Mercedes 219 CLS320 CDI limited slip differential
Mercedes 219 CLS55 AMG limited slip differential
Mercedes 219 CLS63 AMG limited slip differential
Mercedes 220 S500 with final drive ratio 2.82 limited slip differential
Mercedes 220 S55 AMG Kompressor limited slip differential
Mercedes 220 S600 Biturbo limited slip differential
Mercedes 220 S65 AMG limited slip differential
Mercedes 221 S500 limited slip differential
Mercedes 221 S600 limited slip differential
Mercedes 221 S63 limited slip differential
Mercedes 221 S65 AMG limited slip differential
Mercedes 230 SL500 limited slip differential
Mercedes 230 SL55 limited slip differential
Mercedes 230 SL55 AMG limited slip differential
Mercedes 230 SL600 Auto 5-Speed limited slip differential
Mercedes 230 SL63 AMG limited slip differential
Mercedes 230 SL65 AMG limited slip differential
Mercedes SLR McLaren SLR limited slip differential