New M140i Demonstrator 2020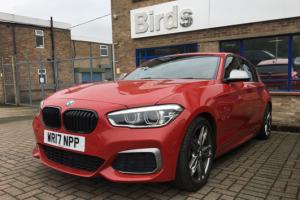 We bought our M140i because this is the last manual non-M car!
It's to be kept by Birds as a landmark in the history of BMW drivers' cars. It represents the pinnacle of BMW's endeavours since the 1970s to create the ultimate driving machine. In our opinion, the disappearance of the true drivers' car is a consequence of a hugely misguided emissions strategy for the motor industry, and we think no cars built since 2019 will have the attributes required by those of us who enjoy driving.
We've now finalised the development of the engine management...
In common with all previous engine management developments, the objective was to calibrate the systems to give long-term reliability, not to breach any of the fundamental thermodynamic and mechanical limits of the engine and driveline, allowing us to offer a product with a manufacturer-matching warranty. As with all Birds conversions, our engine management modifications therefore come as standard with a manufacturer matching warranty.
The M140i B58 engine is capable of generating a lot of power, even with Birds typical conservative limits in mind. Even the standard power output makes this a quick car. Virtually all performance testing had to be carried out on closed circuits. As expected though, the engine performance overwhelms the standard chassis, so we consider our B-Series Suspension and Quaife differential mandatory if you are to genuinely achieve the best performance from the car. Indeed, when the car had finished it's rigourous seven week engine testing regime, we had to add the suspension and Quaife differential before we could test and use it in anger on our local roads.
Footnote.
On an emmissions strategy note, the numbers speak for themselves. It's said that car manufacturing costs 0.72 tonnes of Co2 for each £1,000 of retail price. So a moderate £40,000 BMW car would generate 22t Co2 just to get it onto the forecourt. In the UK, which delivered 2.3m vehicles in 2019, that costs something in the order of 40 million tonnes of Co2.
A 2019 model year car averages 124g/km Co2 output, compared to a 2009 car at 150g/km
The Co2 saving over a 10 year 100,000 mile lifespan would be something like 4.2t. That car would need to be run for 5 years just to break even on the Co2 manfacturing overhead.
Better not to build that car at all, and lavish care and maintenance on the one you already have?
Kevin Bird -Technical Director
Find all performance upgrades for 1 Series (F20/F21) >