NEW Mercedes Quaife ATB Limited-Slip Differential – QDF39B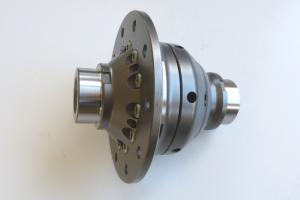 The popular Quaife ATB LSD is now available and in stock for many of the Mercedes 204 models, including the C180, C200, C280, C300 and many more exclusively at Birds and our authorised distributors.
List price: £959.02 ex VAT | £1150.82 inc VAT
Installed price: £1598.23 ex VAT | £1917.88 inc VAT
Shipping worldwide available.
Enthusiastic drivers of powerful Mercedes cars will notice an inability to transfer that power to the road, especially in slippery conditions. The stock 'open differential' will spin away power wastefully, while the electronic traction control will sap engine power when detecting wheel slip. Acceleration, cornering speeds, rear end control and dynamics are all significantly hindered by electronics and basic differential technology. In our opinion, a mechanical LSD is a neccessity for powerful Mercedes cars and it is widely accepted among enthusiasts that they should come as standard.
The Quaife ATB (auto torque-biasing) limited-slip differential is the ultimate solution. Its patented 'gear-only' design allows a progressive transfer of torque away from the spinning wheel and on to the wheel with more grip. Unlike conventional LSDs it does not use clutches or other wearing internals, meaning that Quaife can give a lifetime warranty on their units. It is completely silent in operation, works perfectly with the car's electronics, and cannot void the manufacturer's warranty.
The Quaife is the only limited-slip differential that we offer our customers at Birds because it is the only option that ticks all of the boxes for high-performance road cars.