WINTER SPECIAL OFFER: Quaife ATB Differentials for BMW E85/E86 Z4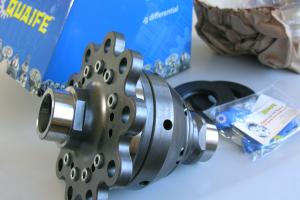 Transform how your Z4 applies power to the road with the popular Quaife ATB limited-slip differential at a special offer price, down from £1530 to £1320 installede.
Offer Conditions;
For months of November and December 2016 only

For all E85/E86 generation Z4 models only (excluding M-Power)

Must be installed at Birds' workshop in Iver, SL0 9HW

Mail orders receive 10% on Quaife list price (£875.50 ex VAT) – total £945.54 inc VAT (+ free shipping for U.K orders).
The Quaife ATB is a clever type of limited-slip diff that provides significantly improved traction and handling for RWD BMWs.
Once installed, drivers will notice an immediate difference as the Quaife automatically biases torque across the axle to the wheel with most grip. Unwanted wheel-slip is greatly reduced, enabling drivers to exploit the full potential of their machines for the first time, leading to a more exciting, rewarding and rapid driving experience.
Widely regarded as the differential upgrade of choice for road car owners, the Quaife ATB was designed to overcome the flaws of conventional clutch-plate limited-slip diffs. The Quaife;
requires no maintenance and never wears, meaning it can be backed by its famous lifetime guarantee
offers a more progressive deployment of power, meaning rear-wheel drive cars become more controllable during moments of oversteer
completely silent in operation and works perfectly with all standard components and electronics
Contact us for more information on any of our annual WINTER SPECIAL OFFERS:
Tel: 01753 657 444
Email: [email protected]
Web: www.birdsauto.com
Watch Chris Harris demonstrate the Quaife ATB in our E92 335i below: