BMW F30 335i, 328i, 330d, 335d QUAIFE Limited Slip Differentials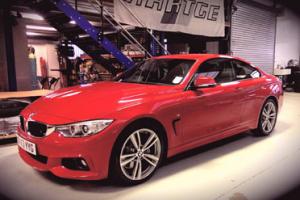 The Quaife ATB limited slip differential (LSD) is now available and in stock exclusively at Birds for all F30 3 series and F32 4 series variants.
The Quaife LSD is a unique device that mechanically senses traction loss and distributes torque to the wheel with most grip accordingly. The result is a transformation of the car's overall performance - increasing acceleration speeds, cornering speeds, and improving the general handling, grip, and dynamics of the car.
If you were an 'enthusiastic' driver of the F30 3 series' predecessor, the E90 3 series, you will know all about its restrictive traction systems. The DSC (Dynamic Stability Control) is designed to "curb the engine output and stop slip on the wheels" - a feature that is considered a frustration by most, especially in slippery conditions.
Despite the fact that BMW have improved these traction systems since the last generation, if you do not have a mechanical LSD you will still find DSC intervention when you begin to push the F30 to its dynamic limit. With DSC switched off, the design of the standard open differential means a lack of traction will cause the wheels to spin away power in true open-diff fashion. BMW's decision to offer an M-Performance LSD as a dealer fit option on the new 435i and M235i is vindication of that fact - there is no substitute for a mechanical LSD.
Once again Birds were first to react and created solutions based on their Quaife ATB limited slip differential - a unique type of mechanical LSD that is able to automatically bias the car's torque to the driving wheel with more grip, allowing the BMW to apply its power to the tarmac with maximum affect. Unlike conventional clutch-plate limited slip differentials (such as BMW's own M-Performance LSD), there are no clutches, ramps, springs or other components that wear out and require maintenance. Quaife's helical gear system is designed and guaranteed to last the life of the car. This unique gear system also allows for a progressive and intuitive transition to oversteer, rather than aggressive clutch-types that can be known to 'lock' and 'snap' out of turns, and is why it is a favourite for RWD road cars such as the BMW F30 3 and F32 4 Series.
The Quaife is guaranteed to work flawlessly with all of the standard BMW electronics and equipment (the Quaife will not affect any other components on the car) and it comes with its own limited lifetime warranty.
Popular variants include:
BMW 3 Series LSD: F30 320i, 320d, 328i, F30 330d, F30 335d, F30 335i QUAIFE LSDs.
BMW 4 Series LSD: F32 428i, F32 430d, F32 435d, F32 435i QUAIFE LSDs.