BMW M135i QUAIFE limited slip differential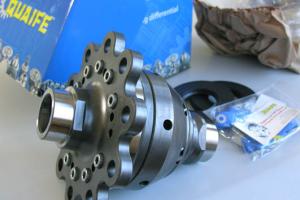 The popular Quaife limited slip differential is now available and IN STOCK for the F20 M135i and new F22 M235i, exclusively at BIRDS.
BMW's M135i has received many positive reviews for its fabulous straight-line performance, its improved ride and handling, and its incredible on-paper value for money. The BMW experts at Birds completely agree, and believe that it's very nearly a true M-Power BMW... Nearly.
One sentiment shared by most, and one of the major distinctions between the M135i and the "real" M-Powers, is that it lacks a mechanical limited slip differential. When pushing the M135i to its dynamic limits (for example when accelerating out of sharp bends) or in slippery conditions, the car is unable to apply all of its power to the ground. With traction control switched on the engine will reduce power to the rear wheels, and with it switched off, the rear wheels will simply spin the power away in true open diff fashion. These are the reasons why BMW still use a mechanical LSD on their M-Powers.
Birds were once again first to react and created a solution around their popular Quaife ATB limited slip diffs. This clever device mechanically senses traction loss and distributes torque to the wheel with most grip accordingly, offering a progressive transfer of power and an intuitive transition in moments of oversteer. The car's overall performance is greatly improved - increasing acceleration speeds, cornering speeds, and improving the general handling, grip, and dynamics of the car. The Quaife works flawlessly with all the standard BMW equipment and cannot invalidate BMW warranties. Accompanied with its own worldwide lifetime guarantee, the Quaife is a superior option to the conventional clutch-plate LSD with its controllable performance characteristics and its non-wearing internal parts, making it a firm favourite for RWD road cars.
The price is £1680 including installation (excl. UK VAT). Shipping worldwide available on request.
We are continuously working to develop BMW Quaife LSD applications for all BMW models. If you own a new BMW and cannot see an LSD on our website for it, please contact us immediately.
Watch BBC Top Gear presenter Chris Harris demonstrate the Quaife ATB's capabilities in our E92 335i!