BMW M235i QUAIFE limited slip differential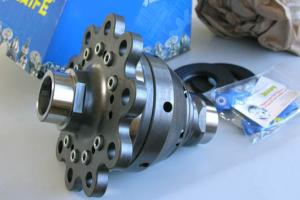 The popular Quaife LSD (limited slip differential) is now available and IN STOCK for the new F22 M235i, exclusively at BIRDS.
The Quaife ATB limited slip differential offers a guaranteed, bullet-proof LSD solution. Once installed, drivers will notice an immediate difference as the Quaife LSD automatically biases the torque across the axle to the wheel with the most grip. Unwanted wheelspin and slip are greatly reduced, the car becomes much more controllable during oversteer, and it's able to transfer its power to the tarmac with maximum effect.
Unlike conventional clutch-plate designs (such as the BMW option), there are no clutches, ramps, springs or other components that wear out and require maintenance. This clever device mechanically senses traction loss and distributes torque to the wheel with most grip accordingly, offering a progressive transfer of power and an intuitive transition in moments of oversteer. The car's overall performance is greatly improved - increasing acceleration speeds, cornering speeds, and improving the general handling, grip, and dynamics of the car.
The Quaife works flawlessly with all the standard BMW equipment and cannot invalidate BMW warranties. Accompanied with its own worldwide lifetime guarantee, the Quaife is a superior option to the conventional clutch-plate LSD with its controllable performance characteristics and its non-wearing internal parts, making it a firm favourite for RWD road cars such as the M235i.
The price is £1395 (excluding UK VAT). Shipping worldwide available on request.
Press
Chris Harris of Pistonheads talks about the positive impact of an LSD on the M235i.
Watch his demonstration video below in the Birds E92 335i demonstrator.