1 Series (E81/E87)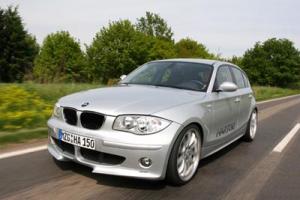 Production 2004-2012.
This has to be the closest thing that BMW have made since the E30 M3. Intrigued by references to the M3 in an early "Autocar" editorial when the 130i was first born, Kevin Bird borrowed a car from his friendly local dealer. He was astonished by the potential of the chassis, and could luckily see through the obvious failings. The car had terrible traction, and the ride quality was awful. Both of these things triggering the DSC and traction control almost constantly in the wet.
It was this that first made us think about limited-slip differentials, the comment being "if we get one as a demo, we'll need a diff straight away!". Regrettably it was some time before we actually aquired one, so the full truth didn't make itself evident until much later. By that time the Quaife solution had been fully addressed with the later E92 335i demonstrator.
So in short, this is a fantastic little chassis, provided that you acknowledge it has three Achilles heels. The run-on-flat tyres, the entire suspension set-up, and of course the lack of a limited-slip differential. These cars, in most engine variants,have proven to be very reliable in service, very cheap to maintain, and a real B road weapon. If you need some proof of that, it has been the device of choice for Kevin Bird for nearly two years. No sign of boredom yet!
Edit-09/2015: Now owned this car for 5 years! Still love it to pieces...