1 Series (E82/E88)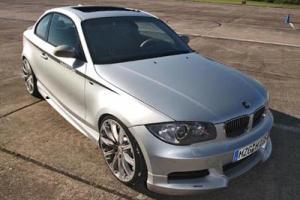 Production 2007-2014.
Using almost the same chassis as the E87, which we say is the closest thing that BMW have made since the E30 M3, most of the dynamics tuning work for this car had already been completed by the time this chassis landed in England. Again, cross platform technology employed by BMW in the engine department meant that we could use existing proven tuning on the 135i. The result is a devastatingly quick but comfortable road rocket. With anything up to 430hp, the mighty V8 M3 wouldn't even see which way it went.
If you want small car practicality, high power to weight, and an easy to tame chassis, this has to be the pinacle of the current BMW crop. If turbo power isn't your preference, it might surprise you to know that the unloved 125i can deliver huge fun at a very modest outlay.
So yet again, this is capable of being a fantastic little chassis, provided that you acknowledge it has three Achilles heels.
The run-on-flat tyres, the entire suspension set-up, and of course the lack of a limited-slip differential.
These cars, in most engine variants,have proven to be superbly reliable in service, very cheap to maintain, and a real B road weapon. If you need some proof of that, the E87 variant of this car has been the device of choice for Kevin Bird for nearly two years. And no sign of boredom yet!
Special Offers
| Description | Application | Fitted price |
| --- | --- | --- |
| Hartge Engine ECU 362hp | 135i, N55 (based on 306hp version) VIN required | £1,427 |